Issue 4: Chantal Jung (she/they) is a Nunatsiavummiuk and self-taught collage artist, writer, filmmaker, and zine creator originally from Happy-Valley Goose-Bay, NL, Canada (Nunatsiavut). She currently resides as a guest on unceded Muwekma Ohlone territory (San Jose, CA). Chantal has produced animated work for the musician Black Belt Eagle Scout, and her writing and artwork has been featured in Inuit Art Quarterly and on the Inuit Art Foundation's website. She is currently part of the Bartow Project and is a member of an Indigenous-led collective called Indigenous Honeys.

---
Iris Cliff (they/them) is an Assiniboine and Turtle Mountain Band of Chippewa illustrator and small business owner based in Lawrence,Kansas. You can find their prints, stickers, and enamel pins in small shops like Wonder Fair, The Raven Bookstore, Made In KC, Frog & Toad and more. Their work is rooted in channeling emotions through cute characters and shape-based illustrations. More recently, Iris has been creating and collaborating on zines. Their new line of zines focuses on Assiniboine and Ojibwe characters and stories, wellbeing exercises, and uplifting Indigenous voices. @irisncliff www.iriscliff.com
---
Jonathan Nelson is a Diné illustrator, graphic artist, and fine artist. His eclectic subject matter includes a blend of Diné culture, Star Wars, and the southwest desert landscape with a unique style influenced by comic books, street art, and graphic design. Jonathan's original art and designs featuring Indigenous peoples and culture create an authentic portrayal of Indigenous life in order to decimate stereotypes. Instagram: @badwinds Website: http://stg.jnelson.work/
---
Marina Perez (she/they) is a descendant of the Nahua and Huichol peoples of the Sierra Madre Occidental territories in West Mexico. She is currently a guest on Tongva and Tiwa territories. She is an arts educator and cultural worker dedicated to empowering young people in the arts. Marina is also a graduate student at the University of New Mexico studying contemporary Native art. She enjoys creating collages, reading poetry, beading and listening to oldies. @your_comadre

---
O.C. Gorman is a Diné Asdzą́ą́n (she/her), Auntie, Artmaker, and Full-Spectrum Indigenous Birthworker. Her art is inspired by her Rez upbringing and are made for anyone that enjoys a little bit of Diné whimsy. When she is not creating art stuffs or serving families in Phoenix as a Doula, you can find her getting coffee, learning about plant medicines, listening to True Crime podcasts, and singing silly songs with her baby niblings. IG: @laughingallsomehow Etsy: https://www.etsy.com/shop/LaughingAllSomehow
---

Sierra Edd is a Diné writer and artist who grew up in Durango, Colorado / Four corners. In her illustration work, she highlights the experiences of Native women, incorporating themes of spirituality and Indigenous futures. Recently she has been making and collaborating on zine projects. She is currently a doctoral student in Ethnic Studies at the University of California, Berkeley. You can follow her work on IG: @sierrabeading.

---


Tia is a Two-Spirit artist from the Seminole Tribe of Florida, and grew up on the Hollywood reservation in South Florida. With a BFA in Illustration from the Rhode Island School of Design, they create multimedia work that ranges from comics and illustrations, to traditional Seminole crafts. Their work focuses on character driven narratives with themes of identity, connection, and belonging, and often includes visual motifs of Seminole culture. They are also an advocate for Indigenous and environmental rights, and aim to work in community with their relatives and neighbors across Turtle Island and beyond.
---
Issue 3:


Amber McCrary is Diné poet, zinester and feminist. She is Red House Clan born for Mexican people. Originally from Shonto, Arizona and raised in Flagstaff, Arizona. She received her MFA in creative writing with an emphasis in poetry at Mills College. She currently resides on Akimel O'odham land. McCrary is also the owner and founder of Abalone Mountain Press, a press dedicated to publishing Indigenous voices.



---




Audra Wolowiec (she/her) is an interdisciplinary artist whose work oscillates between sculpture, installation, text, and performance with an emphasis on sound and the material qualities of language. Recent exhibitions include Sound Mirror at Visitor Center (Newburgh, NY), Viscera/Epiphora at Compound (Yucca Valley, CA), and an iea (Institute for Electronic Arts) residency at Alfred University. She teaches at Parsons School of Design, SUNY Purchase, and directs the publishing platform Gravel Projects. Gravel Projects is an artist-run publishing platform that works collaboratively to produce prints and editions, at the intersection of sound and language. @gravelprojects Photo credit: Anna Bauer



---




Chantal Jung (she/they) is a Nunatsiavummiuk and self-taught collage artist, writer, filmmaker, and zine creator originally from Happy-Valley Goose-Bay, NL, Canada (Nunatsiavut). She currently resides as a guest on unceded Muwekma Ohlone territory (San Jose, CA). Chantal has produced animated work for the musician Black Belt Eagle Scout, and her writing and artwork has been featured in Inuit Art Quarterly and on the Inuit Art Foundation's website. She is currently part of the Bartow Project and is a member of an Indigenous-led collective called Indigenous Honeys.



---




Chantelle Mitchell is from Las Vegas, NV and loves interactive digital spaces. Her work explores the overlap between bodies and machines (and always includes moms). She is an editor at Nabillera: Contemporary Korean Literature and is currently studying at University of Denver.



---




cy x (they/we) is a black queer agender love influencer, earth tender, pleasure-centered energy worker, and cyber witch based in Brooklyn, NY. They are a Pisces Sun + Scorpio Moon doing the magical work of integrating indigenous, ancestral, and emerging technologies, showing the necessity of an embodied way of being that moves beyond binaries and reliance on techno-capitalist fixes. @cyberwitch666
---



Note from Gabrielle Civil, who compiled Experiments in Joy: A Workbook: "Above is the photo that appears on the cover of the workbook and it features all of the contributors to the workbook from our Experiments in Joy Festival in 2014. In order, you see Wura-Natasha Ogunji, Awilda Rodríguez Lora, Kenyatta A.C. Hinkle, Miré Regulus, Duriel E. Harris, Gabrielle Civil, Rosamond S. King along with Vernetta Willett who also performed at the festival. Because it's a collective project, I would love for this image to represent us. Co-Conspirator Press [the publisher of the workbook] is a grassroots project of the Feminist Center for Creative Work."



---




Jam Lincoln is a writer and filmmaker born and raised in Los Angeles California. While completing their MFA in Creative Writing at California Institute of the Arts, they're currently working through hybrid modes of creating such as genre-bending and the use of industrial documentation. @jamthings



---



Lukaza Branfman-Verissimo (they/them/she/her) is an artist, activist, educator, storyteller & curator who lives/works between Ohlone Land [Oakland, CA] and Powhatan Land [Richmond,VA]. Their work has been included in exhibitions and performances at Konsthall C [Stockholm, Sweden], SEPTEMBER Gallery [Hudson, NY], EFA Project Space [New York City, NY], Leslie Lohman Museum [New York City, NY], Yerba Buena Center for the Arts [San Francisco, CA], UNO Gallery [New Orleans, LA] and Berkeley Art Museum and Pacific Film Archive [Berkeley, CA], amongst others. Their artist books have been published by Endless Editions, Childish Books, Play Press, Press Press, Night Diver Press. In the Spring of 2021 their newest artist book, Slow Looking: These Views Are Our Tools, was released with Childish Books [Portland, ME]. Lukaza got their BFA at California College of the Arts and MFA from Virginia Commonwealth University.



---




Meg Shevenock is a Pittsburgh-based writer whose poetry-hybrid collection, The Miraculous, Sometimes, was selected by Bob Hicok as winner of the 2019 Marystina Santiestevan first book prize for Conduit Books & Ephemera. Meg's poems and essays have appeared in such places as Times Literary Supplement, Lana Turner, Denver Quarterly, Best New Poets, and the Kenyon Review blog. She received an Individual Excellence Award in poetry from the Ohio Arts Council in 2020 and a writer's grant from The Academy of Arts and Letters in 2021. Meg is a reader and researcher for artist Ann Hamilton.



---




Neta Bomani is an abolitionist, learner and educator who is interested in parsing information and histories while making things by hand with human and non-human computers. Neta's work combines archives, oral histories, computation, social practices, printmaking, paper engineering, zine making and workshops to create do it yourself artifacts. Neta received a graduate degree in Interactive Telecommunications from the Tisch School of the Arts at New York University. Neta is currently an Instructor in the Collaborative Arts Department at New York University. Neta is also a co-director of the School for Poetic Computation. Neta has studied under Mariame Kaba, American Artist, Simone Browne, Ruha Benjamin, Fred Moten and many others who inform Neta's work. Image description: Neta, a deep brown skinned person, wears a colorful halter top and large lavender heart-shaped crochet earrings as she stands in front of a reflective backdrop that doubles and distorts the image of her profile. Photo credit: Izzy Commers.



---




Sierra Edd is a Diné writer and artist who grew up in Durango, Colorado / Four corners. In her illustration work, she highlights the experiences of Native women, incorporating themes of spirituality and Indigenous futures. Recently she has been making and collaborating on zine projects. She is currently a doctoral student in Ethnic Studies at the University of California, Berkeley. You can follow her work on IG: @sierrabeading.



---




sydnee monday is a sentimental former child who edits books for young people. They studied media, journalism and film at Howard University. Connect with her @sydneemonday. Image description: A Kodak negative of a young Black child with a bun in a yellow scrunchy poses with arms above her head. She wears a denim dress with embroidered flowers over a yellow sweater.



Issue 2: Adjua Gargi Nzinga Greaves (New Yorker, b. 1980) is a Pushcart-nominated poet concerned with postcolonial ethnobotanical literary criticism, the limits of language, and archive as medium. Greaves has most recently been published in The Brooklyn Rail, the collections Letters to the Future: Black Women / Radical Writing (Kore Press), and Creature/Verdure (Pinsapo Journal), as well as in her chapbook Close Reading As Forestry (Belladonna*). Formerly a Monday Night Reading Series curator at The Poetry Project, she will be an artist-in-residence with The Robert Rauschenberg Foundation on Captiva Island, Florida in early 2020 and serves as Site Director of Wendy's Subway in Bushwick, Brooklyn.

---

Caroline Hu is a biologist and cartoonist based in Massachusetts. She makes comics and zines inspired by the natural world and our struggle to understand it. Her ongoing project, The Little Scientist, follows an aspiring scientist's training in a wondrous forest. @hudrewthis

---

Ellen Bae (she/her) resides in the San Fernando Valley region of Los Angeles, CA. She attended Cal State University Long Beach where she received a BFA Illustration degree. In addition to freelance illustration & design work, she has worked in art education programs in both public, private, and non-profit art spaces. During that time, she created inclusive and adaptive arts programming for youth and adult artists. With a special interest in accessibility to information in public libraries and archives, Ellen is currently working on her Masters of Library and Information Science degree at San José State University.

---

Eric Jackson is an artist living in Delaware. Featured in "100Lit" Podcast and poetry appearing in Castle of Our Skins, "Black Poet Miniature Challenge"; Eric's work explores cosmology, race, politics, introspection and relationships through poetry, essays, speculative fiction, and photography.

---

Jacquelyn Zong-Li Ross is a writer based in Vancouver, the unceded territories of the Musqueam, Squamish, and Tsleil-Waututh peoples. Her fiction, poetry, essays, and art criticism have appeared in BOMB, Mousse, Fence, C Magazine, Kijiji, and elsewhere, and her chapbooks include Mayonnaise and Drawings on Yellow Paper (with Katie Lyle). She publishes books by emerging artists and writers under the small press Blank Cheque, and is currently at work on a novel and a collection of short stories. www.jacquelynzross.com

---

Jonathan Lyndon Chase is an interdisciplinary artist who works in painting, video, sound and sculpture to depict queer black love and community amidst the backdrop of urban and domestic spaces. Chase's figures hang in various forms of articulation - intertwined with domestic markers of a kitchen or a bedroom, they are then tethered by pop and street signage to blend emotional and physical, internal and external states of being. Rendered through layers of bright, visceral paint, make- up, foam and glitter these compositions challenge and subvert canonical misrepresentation and exclusion of the black body.

Solo exhibitions in 2020 include Wind Rider at Company Gallery in New York and Big Wash at the Fabric Workshop and Museum in Philadelphia. Chase's work has been previously featured at the Philadelphia Museum of Art, Pond Society (solo), Shanghai; LSU Museum of Art (solo), Baton Rouge; the Rubell Foundation, Miami; Taubman Museum of Art, Roanoke; California African American Museum, Los Angeles; Woodmere Art Museum, Philadelphia; The Bunker, Collection of Beth Rudin De-Woody, Palm Beach and Pennsylvania Academy of the Fine Art, Philadelphia. Their work is included in numerous private and public collections such as the Whitney Museum of American Art, Walker Art Center, ICA Miami, High Art Museum, Los Angeles County Museum of Art, Bronx Museum, Rubell Family Collection, Buxton Contemporary Art Museum, The Wedge Collection, Pennsylvania Academy of Fine Art and Woodmere Museum of Art. Chase was born in 1989 in Philadelphia, PA where they currently live and work.

---

Mira Dayal is an artist, editor, and writer based in New York. She is a co-organizer of the residency program rehearsal, co-curator of the collaborative artist publication prompt:, founding editor of the Journal of Art Criticism, and a regular contributor at Artforum. Her studio work often involves laborious play with language, material, and site, and has been shown at OCHI, Spencer Brownstone Gallery, STNDRD, Gymnasium, Lubov, NURTUREart, NARS Foundation, Abrons Art Center, and other spaces. She has participated in residencies and intensives at the Ox-Bow School of Art, Art in General, and A.I.R. Gallery. She also teaches courses on conceptual projects and writing about art.

---

---

Moncho Alvarado is a trans queer Xicanx poet, translator, visual artist, and educator. She is the author of Greyhound Americans (Saturnalia Books 2022), which was the winner of the 2020 Saturnalia Book prize, selected by Diane Seuss. She has been published in Hayden's Ferry Review, Poets.org, and other publications. They are a recipient of fellowships and residencies from The Helene Wurlitzer Foundation, Lambda Literary, Poets House, Troika House, the Summer Seminar at Sarah Lawrence College. Visit her at www.monchoalvarado.com

---

Wanda Diep is a curious, human-loving, tender-hearted therapist from Los Angeles, CA. She finds joy in the morning light, laughing + crying with others and connecting in all ways possible. Wanda is exploring her relationship with words, writing and storytelling. She is dedicated to helping others find acceptance, love and safety through reflection, quiet moments and silly jokes. IG: @dieppwanda

---

Issue 1:
Abbey Meaker is a lens-based artist, writer, and arts organizer. Her work as an artist and curator aims to create meaningful connection to the natural environment and community. In November 2019, Meaker founded Artist Field, a curatorial platform for research-based projects that engage with the natural world.

From 2015-2019 Meaker served as the Founding Director of Overnight Projects, a curatorial concept that organized experiential installations and idea-driven artworks and events in revolving locations. Notable past sites included an 1800s orphanage, a defunct coal-plant, a 1950s lakeside motel, an air stream which served as an itinerant library, and a cornfield on the cusp of reverting back to a wetland. Within five years Overnight Projects organized 13 exhibitions of regionally and internationally-based artists. She is the studio director for artist Richard Erdman.
---
Amanda Turner Pohan (known as Pohan) is an interdisciplinary artist based in upstate New York. Pohan's most recent video work, Alexa Echoes, premiered February 4, 2021, at the EMPAC Theater at the Rensselaer Polytechnic Institute – additional support by CCS Bard. You can learn more information about what she has been up to or contact her by email.
---
Anita N. Bateman is an independent curator and art historian who specializes in modern and contemporary African art and the art of the African diaspora with additional interests in the history of photography, Black Feminism, and the role of social media in activism and contemporary art. Bateman earned a Ph.D. in Art History & Visual Culture and a Graduate Certificate in African and African American Studies from Duke University, an M.A. in Art History from Duke University, and a B.A. in Art History cum laude from Williams College. She has held curatorial positions at the RISD Museum, the Williams College Museum of Art, and the Nasher Museum of Art. Her research has been supported by the American Council of Learned Societies, the Andrew W. Mellon Foundation, the Woodrow Wilson National Fellowship Foundation, and the Social Science Research Council. Bateman is from Memphis, TN, and is currently living in Providence, Rhode Island. @anicurateslife
---
Becci Davis was born on a military installation in Georgia named after General Henry L. Benning of the Confederate States Army. Her birth initiated her family's first generation after the Civil Rights Act and its fifth generation post-Emancipation. As a Rhode Island-based visual artist who works across disciplines, Becci finds inspiration in exploring natural and cultural landscapes, studying the past, documenting her family's stories, and recording her present experiences as a daughter, mother, American, and Southern born and raised, Black woman.

After earning her MFA from Lesley University College of Art and Design, Becci was the recipient of the St. Botolph Club Foundation Emerging Artist Award in Visual Art, the Rhode Island State Council on the Arts Fellowship in New Genres, the Providence Public Library Creative Fellowship, and the RISD Museum Artist Fellowship. Her work has been exhibited nationally, at venues including the Newport Art Museum, TILA Studios, the Photographic Museum of Humanity, Franklin Street Works, Burlington City Arts Center, AS220, University of Maryland, and Longwood University. Becci lives with her family in Wakefield, Rhode Island. She is a member of the WARP Collective, as well as the AS220 and Dirt Palace Public Projects communities.
---

Christina Tran makes tender, autobio comics and essays that pull us toward a more compassionate world. She has been making webcomics since 2014 and self-publishing zines since 2015. Her artmaking practice draws on roots of design, teaching, and community weaving. Find her online at sodelightful.com or in-person at a renegade community art space called Mt Caz.
---


Elise Bernal is an artist and humyn from Pico Rivera, CA who makes zines, illustrations, fiber art, and clay things. Through her art, she hopes to reflect on and share stories of sadness, joy, and life to help others feel connected and empowered! She wants to give a shout-out to her mom, whose life and death continues to inspire her. @elisebernalart
---
Hannah Altman is a Jewish-American artist from New Jersey. She holds an MFA from Virginia Commonwealth University. Through photographic based media, her work interprets relationships between gestures, the body, lineage, and interior space. She has recently exhibited with the Virginia Museum of Contemporary Art, Blue Sky Gallery, the Pittsburgh Cultural Trust, and Photoville Festival. Her work has been featured in publications such as Vanity Fair, Carnegie Museum of Art Storyboard, Huffington Post, New York Times, Fotoroom, Cosmopolitan, i-D, and British Journal of Photography. She was the recipient of the 2019 Bertha Anolic Israel Travel Award and included in the 2020 Critical Mass and Lenscratch Student Prize Finalists. She has delivered lectures on her work and research across the country, including Yale University and the Society for Photographic Education National Conference. Her first monograph, published by Kris Graves Projects, is in the permanent collection of the Metropolitan Museum of Art Thomas J Watson Library. @hannah.altman
---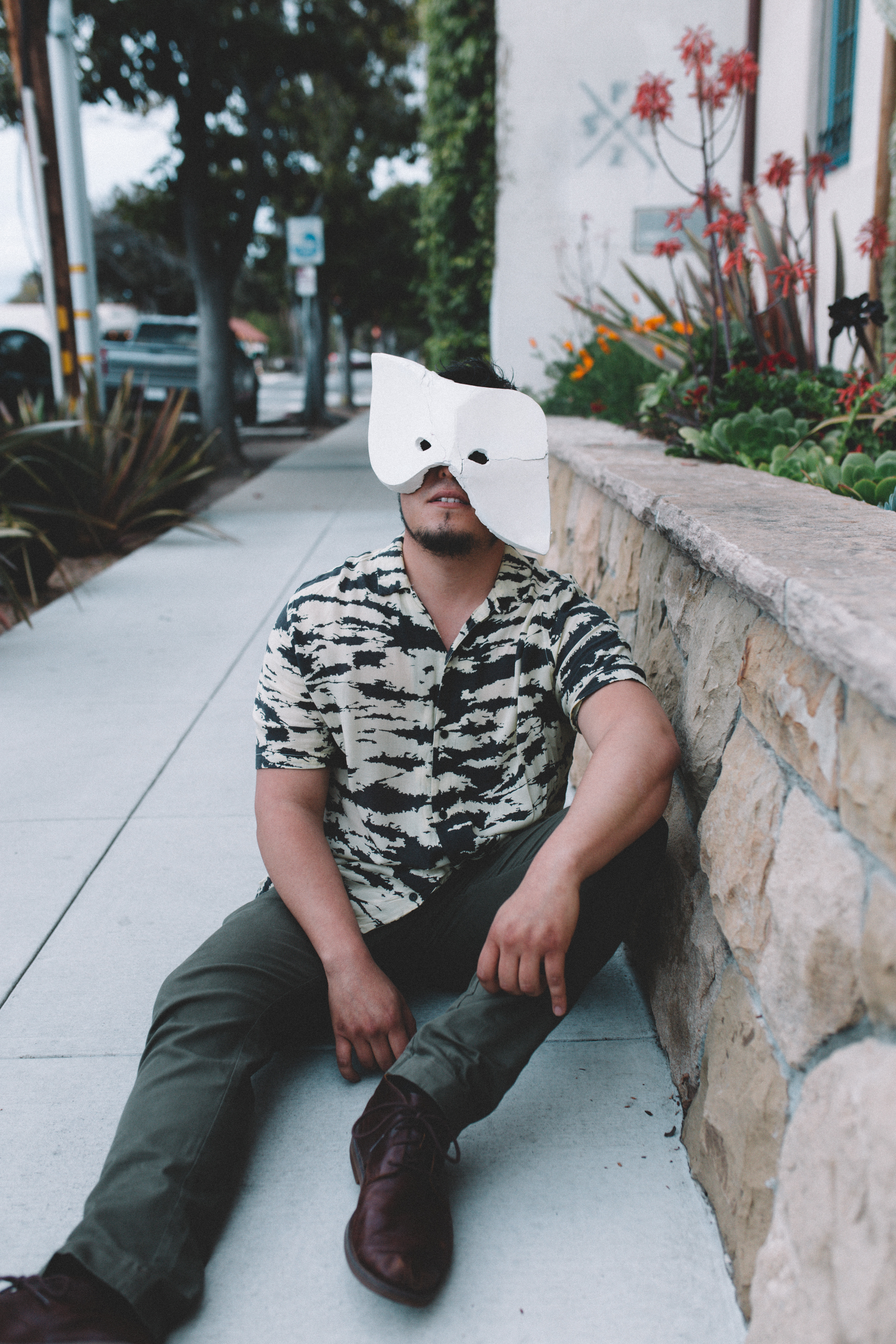 Joshua Escobar is the author of the chapbooks, Caljforkya Voltage and xxox fm, as well as the new debut collection, Bareback Nightfall, which explores a queer dystopia through the eyes of a deejay. He co-edits the student magazine Open Fruit at Santa Barbara City College, where he the incoming Director of Creative Writing. @djashtrae17
---


Miriam Geiger grew up in Columbus, Ohio, and slowly migrated east. She now lives in Boston, Massachusetts, but hasn't lived there long enough to spell Massachuesetts without autocorrect. She spends her time with her spouse person learning local history and doing backyard astronomy.



---



Sunny Leerasanthanah was born in Bangkok, Thailand, and currently lives and works in New York City. She earned her MA in arts administration at Columbia University and completed her BFA in film and photography at Ithaca College. Working primarily with photography, text, and video, Sunny's work has dealt with storytelling, placemaking, superstition, and personal family history. Her recent self-published book, Mom's Magnets (2020), was featured at Bangkok Art Book Fair 2020. Sunny's newest video installation is now on view as part of SculptureCenter's 2021 exhibition, In Practice: You may go but this will bring you back. @sunnyleeras



---