sydnee monday responds to Lukaza Branfman-Verissimo's "Slow Looking: These Views Are Our Tools" (Childish Books, 2021)

window back to my body

The ease with which a place becomes an entry:
searchlight viewfinder fantasy's aperture

Smell of my lateral gazing
Reach of the outsider's extravagant need
– Jenny Xie, "Unspoiled Fictions"

To think about this zine and how it fits on Childish Book's list, I first searched for the definition of childish: relating to, or befitting a child or childhood. But then, how to define childhood – an early stage of development? the state of being new to your body? The second definition of childish was most illuminating.

2 (a) : marked by a lack of poise.

"Slow Looking: These Views Are Our Tools" by Lukaza Branfman-Verissimo features 30 risoprint pages filled with prompts into slow noticing, top-bound by a pastel tangerine coil. You allow the handbook, a gentle guide, to shepherd you in your seeing as you find surprises along the way it leads.

Dedicated to nun/justice advocate/educator/artist Corita Kent, "Slow Looking" feels like a handbook you might find in a well-funded classroom with a perceptive and precise teacher. "I am deeply inspired by [Kent's] practice," writes Branfman-Verissimo in the zine's introductory note. "The ways she approached creating art about the world around her and her outstanding way of re-orienting, looking closely at what we might walk past."

Encouraged by how Kent often utilized the viewfinder walk with her students, Branfman-Verissimo similarly encourages outdoor exploration. "WHEN ISLOW DOWN, INOTIC EMORE" reads one of the full pages of big, hand-written block letters that occur throughout, spaced to slow down your eye so that you pay close attention to the words meant by the shapes. They suggest making your own viewfinder (though a couple are included) to become more familiar with your neighborhood. I was surprised to find a neighborhood in my body first.

I opened the package with "Slow Looking" as a 'goodnight, welcome back' gift after being away for a favorite aunt's funeral. I was content that my small apartment felt like home; grateful for my (own). Since I'd caught a late flight, I planned to use the zine the next day on a lunchtime walk. But my post-travel grief nerves couldn't wait. I tore a page from a journal and retrieved a small pair of red scissors. I began to fold and cut; fold and cut, shooting for kaleidoscope shapes until I landed among white scraps to a small, dotted heart.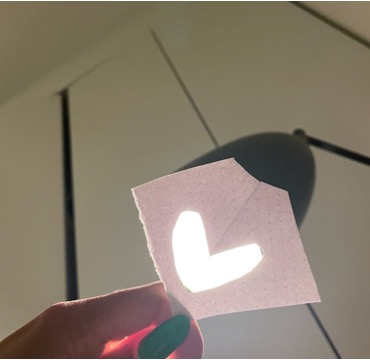 First, I found the light, and then I found myself: two moles on my left thigh – one fresh to who might see it, to me. I add a curved line, a tiny delight. I turn the heart-shaped viewfinder to my night-stand: Glitch Feminism by Legacy Russell, On The Bus with Rosa Parks by Rita Dove, Memorial Drive by Natasha Tretheway, and New Daughters of Africa, edited by Margaret Busby. I make a poem from the stack.

Glitch
s with Rosa Parks
al DRIVE
DAUGHTER

The day after I first experience Branfman-Verissimo's zine in bed, I zoom in. On a gray Monday in New Jersey, the light sits concrete-silent in the sky. My coffee is sweet, and a quiet smiley face has reminded me to shower. I pull focus, and it becomes another poem:

Around the time of
let-out, kids and their carers
small limbs stretch, shake out excess
growls escape on sidewalk
without caring who sees